RCA Launches New Ad Campaign
"Help us prevent a mining disaster. Our lake is at stake."
That's the Rock Creek Alliance message as we enlists citizens to raise their voices against the Rock Creek Mine in a full page ad in the current Summer 2016 edition of Sandpoint Magazine. The ad is part of our ongoing efforts to raise awareness of the proposed mine.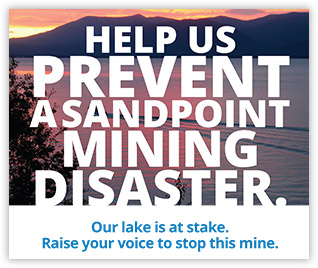 The ad points out the jeopardy to Lake Pend Oreille and Sandpoint, just downstream of the mine site.
"Sandpoint has everything to lose and absolutely nothing to gain from this monster of a mine," the ad concludes.
Click to see the ad»
Click to read online edition of Sandpoint Magazine»