Help us prevent a mining disaster. Our lake is at stake.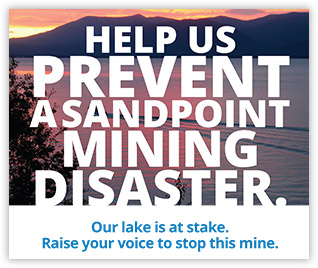 That's the Rock Creek Alliance message as we enlists citizens to raise their voices against the Rock Creek Mine in a full page ad in the current Summer 2016 edition of Sandpoint Magazine. The ad is part of our ongoing efforts to raise awareness of the proposed mine.
The ad points out the jeopardy to Lake Pend Oreille and Sandpoint, just downstream of the mine site.
"Sandpoint has everything to lose and absolutely nothing to gain from this monster of a mine," the ad concludes.
Click to see the ad»
Click to read online edition of Sandpoint Magazine»
When you join Rock Creek Alliance, you'll receive updates on the work we do, invites to public meetings and the satisfaction of knowing your donation is going directly to a single purpose—protecting a treasured lake and wilderness area from a monstrous threat. Plus, your donation is 100% tax deductible.
You can join through our website or, if you prefer, you can send a check made out to the Rock Creek Alliance to P.O. Box 2636, Sandpoint, ID  83864. If you have questions, please feel free to e-mail us or call us at 208-610-4896.
Write Your Representatives
You can can help support our efforts to stop the Rock Creek Mine through your tax-deductable donation. We use these funds to provide education, outreach and to support legal action against mining activities in the Cabinet Wilderness area. With your help, we will continue to fight as long as necessary!
Get involved by volunteering your time, energy, and creativity!